Zermatt Bergbahnen AG (ZBAG) has extended its dynamic pricing with Smart Pricer for several years and expanded it even further. In our second interview, we asked Markus about dynamic pricing and the alternatives for mountain railways that are not yet ready for it.
Dear Markus, three years ago you still had static pricing. In a first step, you had a price analysis carried out as a basis for the introduction of seasonal periods, service surcharges at ticket offices and fixed online discounts. That was not yet true dynamic pricing. What were the motivations behind this?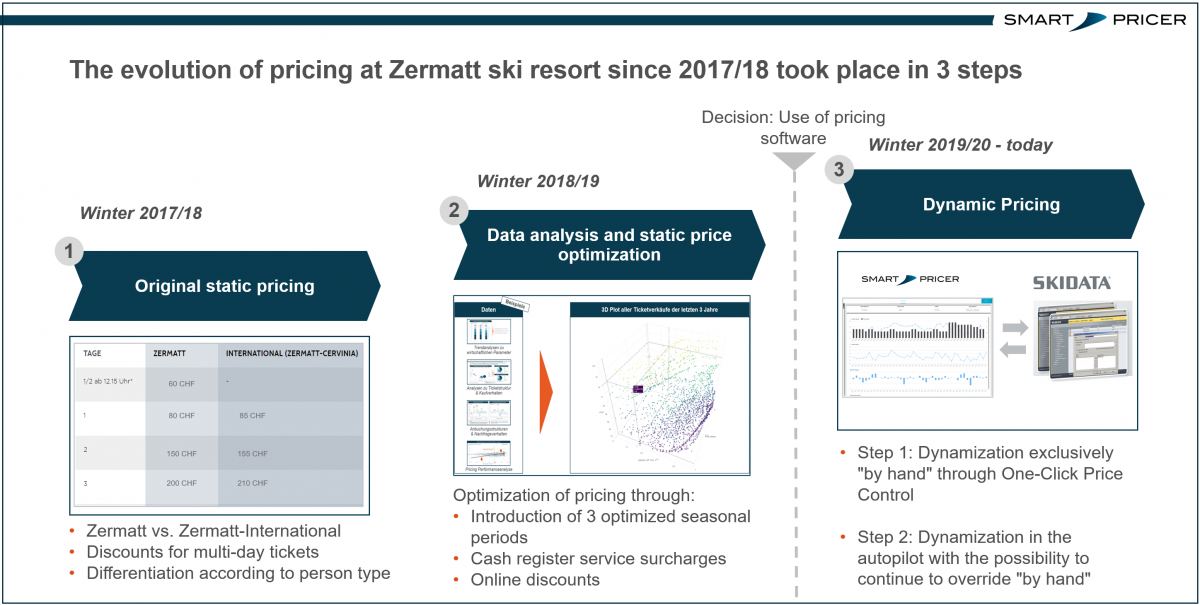 Graphic: The evolution of pricing at Zermatt ski resort, Source: Illustration Smart Pricer
Zermatt is a decidedly residential destination. We have very few day tourists in the winter half-year and are therefore not subject to very fluctuating occupancy rates like other destinations. The most sold products are the 5 – and 6 – day ski pass. In this environment, we wanted to gradually introduce our customers to online ticketing and early booking through such "static price optimisation".
Last winter was the first time we really dynamised prices. In the future, we will further increase this dynamisation, but always with the possibility to override "manually" so that we retain control.
In a second step, you got access to the Smart Pricer tool and were able to change prices of all ticket types for one day "by hand", but with a single click. How did you use these new possibilities?
In the last two winters, I used this tool more and more, especially in the winter season of 2020/21. The prices suggested by the tool were overridden "manually" depending on the weather, snow and wind conditions, slope conditions, etc. This was especially the case in the second half of March and in April (Easter), when conditions were excellent and more guests from the local markets booked for 2-3 days at short notice due to the crisis situation.
Now, in a third step, you have opted for the "fastest dynamic pricing in the Alps". Every 15 minutes, the prices at the box office, in the web shop and at hotel partners are checked and adjusted if demand increases. How did you come to this decision and what do you expect from it?
We want to encourage our guests to book as early as possible and online. Part of the strategy is to exert "a little pressure" by making guests realise that if they don't book today, the ticket will only get more expensive – possibly even within the next few hours.  
Currently, the topic of dynamic pricing is gaining momentum and more and more ski resorts in the Alps are informing themselves about it. What tips or recommendations do you have for mountain railways that a) are currently thinking about introducing dynamic pricing and b) are not yet ready for dynamic pricing?
An important principle is definitely that every destination has to find the right solutions for dynamic pricing and the associated measures. Guest composition, the difference between a day destination with a large catchment area and a residential destination, as well as the positioning must be taken into account. Just as the destinations differ in what they offer, they also differ in the guest segments.
If you now look back on the last 3 years, what were the most important effects you achieved through Dynamic Pricing?
The most important effect was the shift of sales to the online channel. The increased advance booking period was also driven by an online sales promotion in the month of October with special early booking discounts. Through further dynamisation, we want to move away from such promotions and encourage customers to always book online as early as possible. This is to be achieved without special promotions, solely through dynamic pricing and the associated "Best Price Guarantee" for online early bookers. 
The fact that dynamic pricing has also increased the revenue per ticket is very pleasing from a business point of view. Only very few customer reactions have emerged, which confirms our chosen path and spurs us on to further optimisation.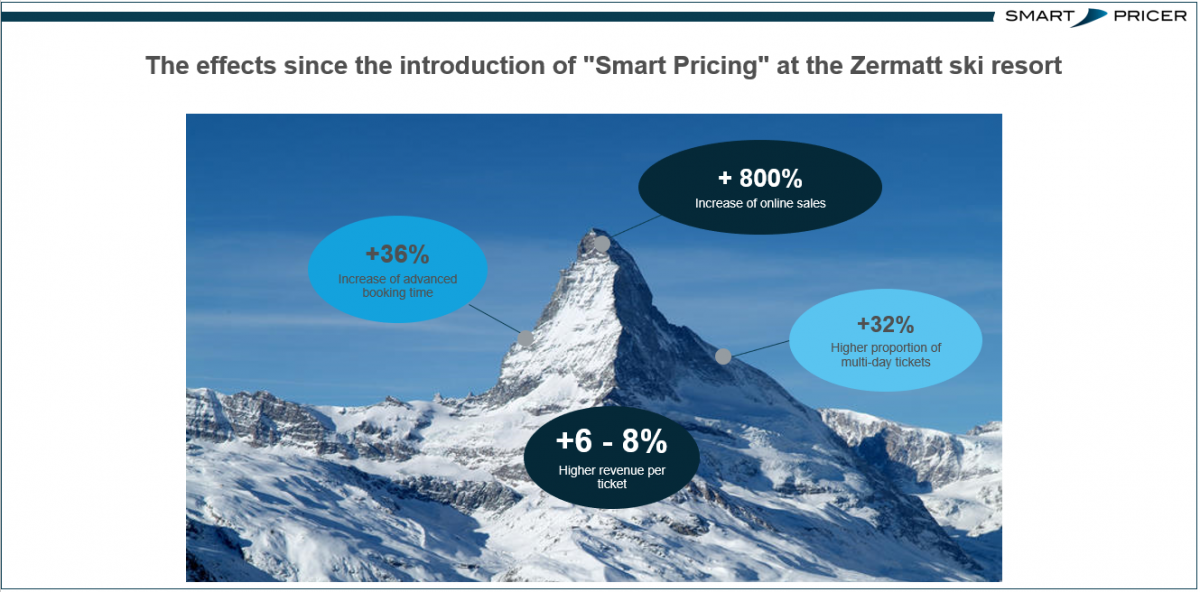 Graphic: The effects of dynamic pricing at the ski resort Zermatt, Source: Illustration Smart Pricer
Thank you very much, Markus, for your contributions on the topic of dynamic pricing. In the second part of our conversation with Markus, we will focus on the topic of "Strategic challenges at the Zermatt ski resort".