Cinema – Our Pricing Solutions
Our Dynamic Pricing solutions help to optimize cinema ticket pricing to increase revenues and profits.
Pricing Challenges And Goals For Cinemas
Discover the demand for each cinema ticket in your theater and set up the right pricing strategy for your movies.
Attendance loss for younger audience
Online streaming services and changing consumer behavior leads to attendance loss for younger audiences in many cinemas. Attractive prices and bundles attract those audience again.
High demand vs. low demand times
Weekends and evenings attract more movie-goers than weekdays and midday. Attractive and dynamic prices shift demand to off-times and increase revenue on peak-times
Competition from third party subscription provider
Implement your own dynamic pricing strategy to keep your independency from third party providers and collect own visitor data.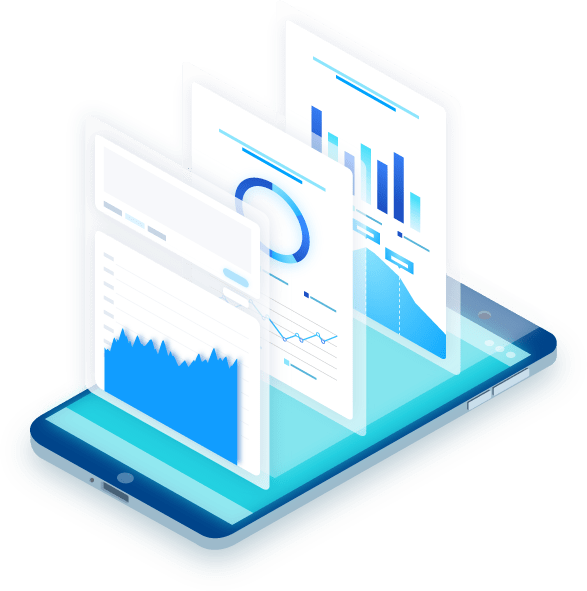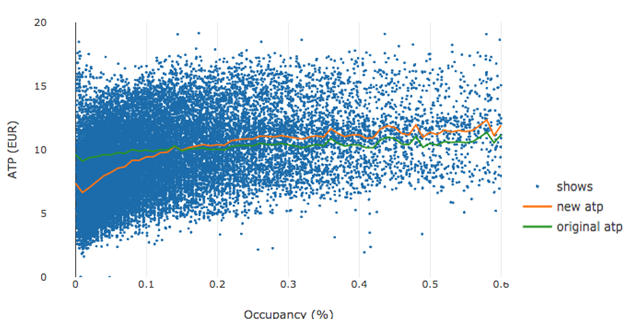 Average ticket price impact per show with revenue simulation tool
Pricing Goals for Cinemas
Drive Revenues
Utilize the price insensivity of spontaneous and solvent customers for high-demand movies to increase overall revenue.
Increase visits at off-peak times
Offer attractive prices at off-peak times to shift demand and reduce the impact of fixed costs at those times.
Incentivize online sales
Increase online sales through special discounts to collect more customer behavior information and get better planing security while saving money.
How We Can Help You Achieve Your Goals
To achieve the strategic goals of our clients we usually follow three steps:
Typical Results For Cinemas
How does Smart Pricing work at cinemas?
Christian Kluge and Gergana Ivanova are at the cinemacon2019 and share their 3 key insights about current trends in the cinema industry.
When executing Dynamic Pricing, our customers usually set a starting price per day according to different price levels. This includes, for example, general conditions such as historical data, vacation calendar etc. The prices are controlled per day according to different price levels. Here, parameters such as pre-sales, the booking time, and some more are included.
"Our initial applications of Smart Pricer's software have had very positive results. We plan to expand our use of their dynamic pricing technology."
"By examining our current pricing scheme in combination with data analytics, Smart Pricer delivered enlightening insights to applicable pricing improvements. After going live with Smart Pricer's dynamic pricing solution at our Cinema Park theatres the first results are really impressive."
"Smart Pricer's software has increased our revenues significantly. We are pleased that our guests accept the new pricing model."
"With the help of Smart Pricer and their pricing analysis kit we evaluated our pricing structure. Using a movie lifecycle analysis and understanding the correlating customer patterns helped us identify potential levers in our pricing structure to unlock higher revenue potential."
FAQ – Answers to Your Questions
What are the expenses for theatre operators implementing dynamic pricing?
The costs vary based on the scale of the dynamic pricing roll-out. Revenue uplifts are typically 5x – 10x higher than the cost of implementation.
How do distributors react to dynamic pricing?
As long as ticket discounts are modest and the overall average ticket price increases, distributors support dynamic pricing as they participate in revenue increases.
What efforts are required for implementing dynamic pricing?
Testing dynamic pricing at a few theatres is usually the first step before conducting a full roll-out at all theatres.
The test preparation typically takes 2 to 8 weeks depending on:
The quality and speed of historic data delivery by the exhibitor
The availability of resources for setting up the price update process
The speed of adjusting customer communication and informing theater teams
For the live operation of dynamic pricing, efforts depend on the POS integration. This could either mean no effort is needed, meaning price updates are fully-automated or just 5 to 10 minutes per day for price updates to do be carried out by the local theater or central pricing team.
How do we communicate dynamic pricing in the cinema industry?
Communication is key for a successful introduction of dynamic pricing.
We propose to transparently communicate how customers can make a bargain, e.g. "Buy early for off-peak shows and save up to 3 EUR".
How do you measure the revenue increase generated by dynamic pricing?
The revenue increases are measured by conducting A / B tests, i.e. we track the average ticket price and attendance development at theatres with dynamic pricing (test theatres) and compare them against comparable theatres without dynamic pricing (control theatres).
Why is dynamic pricing suitable for cinemas?
The combination of fixed capacity and variable demand, creates the perfect condition for dynamic pricing.
As price sensitivity for each show fluctuates depending on movie, weekday, time and several other factors; dynamic pricing can be used to drive attendance during off-peak times as well as slightly lift ticket prices during peak hours if desired.
Discover how we introduce dynamic pricing with our clients.
German Cinema Ticket Pricing
In this white paper we review the development of attendance, ticket revenue and ticket prices over the last years. We examine the pricing models of the top German chains and look at the pricing innovations that may shape the next years.
Pricing innovations allow visitors more choice in product and price for a specific show
The current static pricing creates inefficiencies, does not consider true demand
The megatrend of dynamic pricing is the next frontier for cinema pricing
Let's talk about how we can achieve your goals.
Leave us a message to schedule a first free consultation about your needs and goals. We are happy to hear from you. Just give us a call, send us an email, or stop by at our office in the heart of Berlin.
We're looking forward to hearing from you!
Smart Pricer – Office Germany
Brunnenstraße 7d
10119 Berlin
Smart Pricer – Office Austria
Leopoldstraße 24/1
6020 Innsbruck
Smart Pricer - Office Switzerland
Avenue du Temple 13B
1012 Lausanne