AUSTRIAN PREMIERE | ÖTZTAL SKI RESORTS DISTRIBUTE VISITORS BETTER THROUGH SMART PRICING
SÖLDEN / GURGL, AUSTRIA AND BERLIN, GERMANY – May 2021.
The ski resorts of Sölden and Gurgl have become the first major Austrian ski resorts to introduce a new, dynamic pricing model together with Smart Pricer, the leading provider of pricing analysis and dynamic pricing software in the ski resorts and leisure sector.
"We believe that Dynamic Pricing is the future for Austrian ski resorts. So far, we are extremely satisfied with the cooperation and implementation by Smart Pricer and are looking forward to achieving great results in the coming "post-Covid period", says Jakob Falkner, Managing Director (MD) of Bergbahnen Sölden.
Based on a comprehensive analysis of historical booking data, the ski resorts of the Ötztal, Smart Pricer and Skidata jointly developed the new pricing model. For operational price control, Smart Pricer also provides them with its Dynamic Pricing tool with an interface to Skidata. Werner Hanselitsch, MD of Liftgesellschaft Obergurgl, says,: "We retain full control by defining the frame of our pricing – such as minimum and maximum prices – within which optimization then happens daily and fully automatically."
Alban Scheiber, MD of Liftgesellschaft Hochgurgl adds, "We were convinced by Smart Pricer's extensive experience in price optimization at Zermatt Bergbahnen, Aletschbahnen, FC Bayern München and many others."
Franz Holzer, MD at SKIDATA Austria, adds, "The interaction between SKIDATA and Smart Pricer takes place within the frame of a product partnership. In Ötztal, we have an excellent example of how the SKIDATA system can be expanded with best-of-breed partners. Not only to realize new requirements and wishes of the ski resorts, but above all to set trends.
Christian Kluge, MD of Smart Pricer GmbH concludes, "Dynamic Pricing currently is a heavily discussed topic among Austrian ski resorts. The introduction of it at Swiss ski resorts and other providers of the sport – and leisure industry showed that revenues with it typically circle around +3 – 10% and online shares increase on up to 50%. We are very happy about a great partnership with a top ski destination like Ötztal and we see great potential with other mountain railroad operators as well."
The new pricing model was already in use prior to the Austrian lockdown and will continue after the relaxation of the Covid-related partial closures.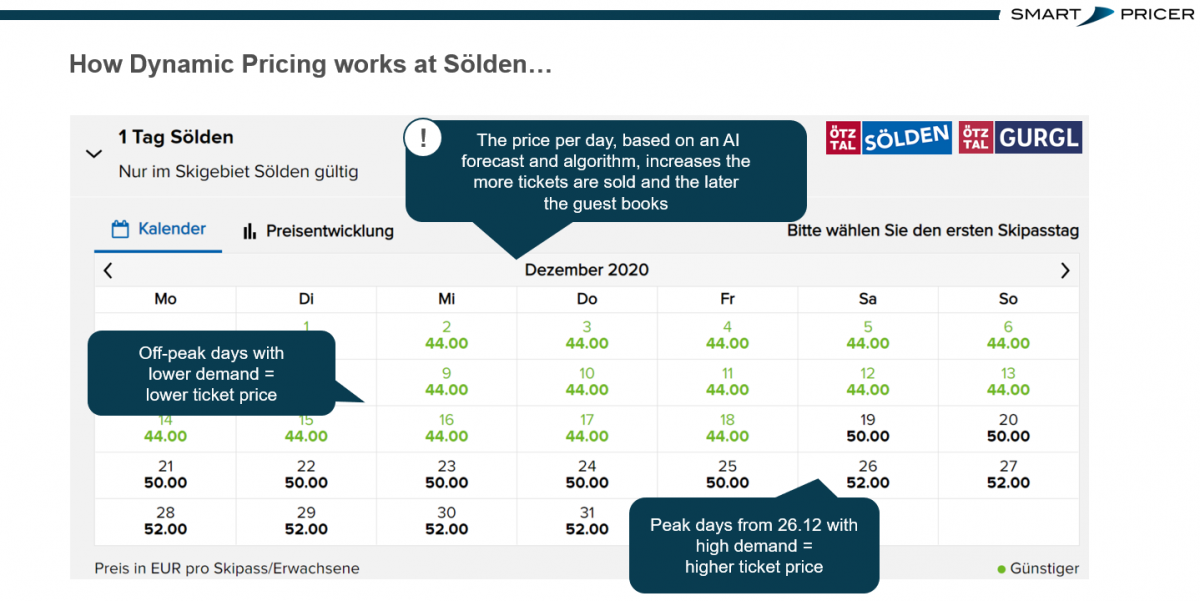 Source: Skiperformance webshop, Smart Pricer prices.
About Bergbahnen Sölden
Bergbahnen Sölden is one of the leading mountain railroad companies in the Alpine region and, as a modern service company, it invests sustainably in innovation, quality and the highest technical standards. Three legally independent companies are united under the umbrella of Bergbahnen Sölden – Skiliftgesellschaft Sölden-Hochsölden GmbH, Ötztaler Gletscherbahn GmbH & Co.KG and Schilifte Gampe Ötztaler Gletscherbahn KG. The company owns and operates the 31 lifts in the Sölden ski area with a transport capacity of around 65,500 persons/h, 6 mountain restaurants (2 of which are leased externally), as well as the *****Hotel Central in Sölden, the Rastland Nassereith and Area 47, the biggest outdoor leisure park in Austria. For more information about Bergbahnen Sölden, please visit www.soelden.com.
About the Bergbahnen Gurgl
The ski resort at the end of the Ötztal valley offers its guests a safe, contemporary and diverse leisure experience. At the same time, it is one of the largest employers with numerous jobs in lift operations, mountain restaurants & huts. The ski reosrt looks back on a long history and the spirit of innovation is still clearly visible today. The Bergbahnen Gurgl unite the Liftgesellschaft Obergurgl, Gesellschaft m.bH.; Hochgurgler Lift-Gesellschaft m.b.H. & Co.KG and Top Express Seilbahnen Gurgl GmbH & Co.KG. Further, they operate 25 lifts with a capacity of 42,000 persons/h and 112 kilometers of slopes. For more information on Bergbahnen Gurgl, please click here: https://www.obergurgl.com/de/winter.html.
About Smart Pricer
Smart Pricer provides ski resorts, leisure operators and attractions around the world with modern solutions and the necessary tools to improve ticket sales and better manage visitor flows through price optimization. The Berlin-based pricing experts have already dynamically priced more than 50 million tickets. Today, Smart Pricer is the go-to partner for many top companies, such as FC Bayern Munich, Zermatt Bergbahnen AG and the Aletscharena. For more information about Dynamic Pricing and the solutions of Smart Pricer GmbH, please visit www.smart-pricer.com.
About SKIDATA
SKIDATA is a leading international provider of access solutions and their management. Worldwide, nearly 10,000 SKIDATA installations in ski resorts, stadiums, airports, shopping malls, cities, spa and wellness facilities, fairs and theme parks provide safe and reliable access control for people and vehicles. SKIDATA places great importance on solutions that are intuitive, easy to use and safe. The integrated concepts of SKIDATA solutions help customers to optimize performance and maximize profits. The SKIDATA Group (www.skidata.com) is part of the listed Swiss Kudelski Group (www.nagra.com), a leading provider of digital security solutions.