In the last 2 years, the number of European ski resorts using dynamic pricing has more than tripled: from 5 to over 15 (see fig. 1). On top of this trend, we've taken the opportunity to provide an overview of the reasons that lead ski resorts to introduce dynamic pricing and of the different models available in the market.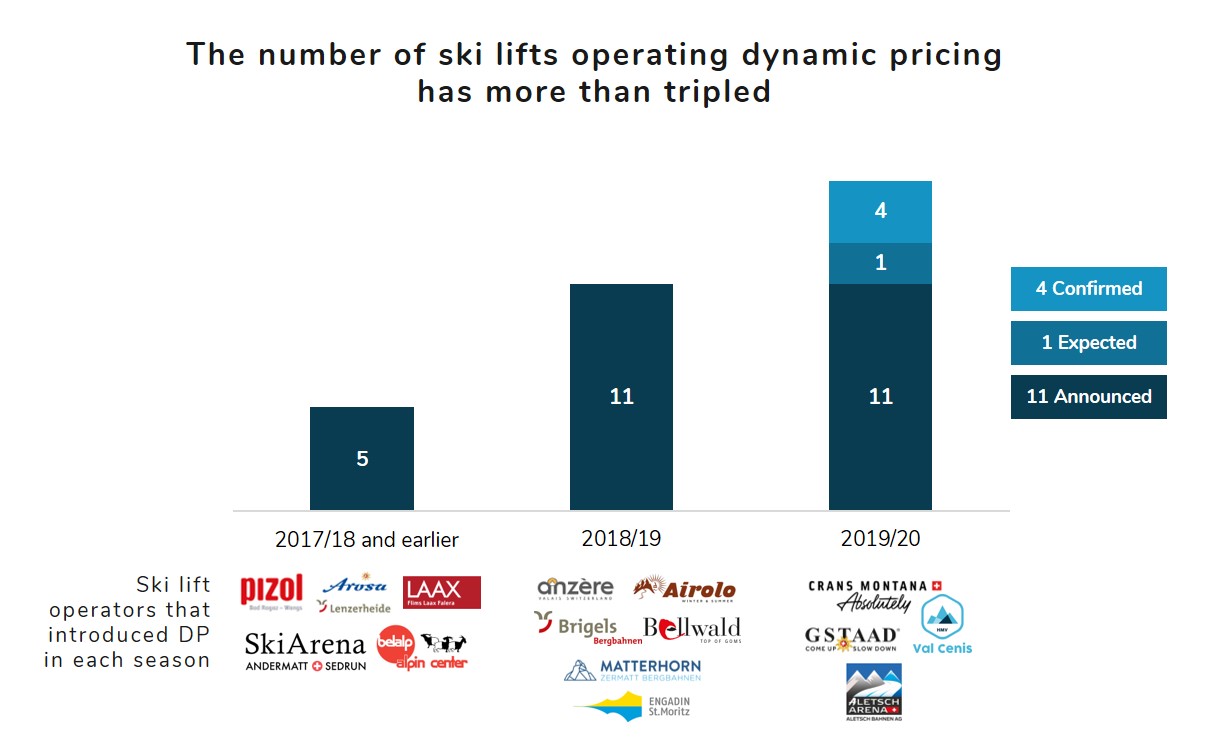 For this winter season, several more renowned Swiss ski resorts, such as Crans-Montana, Aletsch and Gstaad, as well as another one not yet publicly announced, have decided to work with dynamic pricing. For the first time, the trend is now spilling over from Switzerland into France (Val-Cenis). We believe that more countries will follow soon.
Why are more and more ski lift operators introducing dynamic pricing?
To answer this question, we've spoken with more than 50 ski lift operators. Four main reasons have emerged:
1) Increase in revenue
One of the main reasons why ski lift operators are adopting dynamic pricing is the fact that it leads to an increase in revenue. On the one hand, demand is easily stimulated by a price reduction on off-peak days. On the other hand, a moderate price increase on high demand days makes it possible to capture more of the willingness-to-pay. Overall, this practice has a positive effect on the total revenue of ski lift operators. In an interview with CNN in January 2019, the CFO of Engadin St. Moritz Mountains AG, Thomas Rechberger, explained that the combination of dynamic pricing and positive weather conditions in 2018/19 led to an increase in sales of 12%. Additionally, the number of first-time users grew by 10%. 
2) Earlier booking of ski passes
The booking time of ski passes increases clearly through dynamic pricing. Early bookers are often rewarded with lower prices — especially when buying multi-day tickets. This leads to a significant boost in early ticket sales in October/November. The purchased tickets are often valid only during the holiday periods in December and February/March.
3) Increase in online shares
Dynamic pricing also leads to a significant growth of online shares. At Zermatt, for example, online shares have multiplied compared to last winter. For ski lift operators, this translates into a reduction of the risk linked to weather conditions. At the same time, valuable customer data can be collected for future marketing campaigns.
4) Extension of the booking period
Ski lift operators also benefit from an extended booking period for skiers. Due to the advantageous early booking offers, more guests decide to buy cheap multi-day tickets long in advance instead of choosing day tickets for the best skiing days on site. In St. Moritz, the length of stay of guests increased from 4.8 to 5.0 days as of January 2019.
We distinguish 3 types of dynamic pricing
There are several types of dynamic pricing, in which a number of different factors influence pricing. We've noticed that three models are starting to consolidate:
1) Meteo dynamic pricing: The worse the weather, the cheaper the ticket
In some ski areas, such as at the Pizol mountain lifts and the Belalp ski resort, price reductions are possible depending on the weather forecast. The worse the weather, the cheaper the day ticket. Staggered discount categories help with a more precise determination of the price reduction: for example, there is a discount of 18% for a forecast of "temporarily sunny, intermittent snowfall". But if "cloudy, frequent snowfall" is the message of the forecast, skiers save up to 50% on the purchase of a day ticket.
2) Online discounts: The sooner the booking, the cheaper the ticket
Some ski resorts prefer a different approach. In Arosa-Lenzerheide, skiers get early bird discounts which depend on the day of the week, season and demand, and are only valid online. Moreover, the maximum price limit is set equal to the fixed price that applies at the ticket office. This means that higher prices at the ticket office – which would make sense especially on peak days — are not applied.
3) Fully dynamic pricing: Dynamic online and at the ticket office
Some ski resorts implement a fully dynamic pricing. This means that prices vary according to demand on all sales channels. Historical data, booking time, season and holiday period are taken into account. At Zermatt, for example, the prices of a 6-day ticket for adults ranged between 338 CHF and 422 CHF last season. The situation is similar at Andermatt-Sedrun. 
Overall, it becomes clear that dynamic pricing can yield several benefits. The main three are:
Attract more skiers to the mountains on off-peak days

Reward early bookers

Sell an increased number of multi-day passes in place of single-day or two-day tickets.
What will happen in the next future? We believe that more and more ski resorts outside Switzerland will introduce dynamic prices in the next years too.