BERLIN, INNSBRUCK – MARCH 2023
Dynamic pricing for ski pass products promise four main effects:
Significant increase in revenue
Significant increase in the sale of tickets through online channels
Increase in visitor numbers during off-peak times and better distribution on peak days
Ability to offer lift tickets in different price categories for different customer groups / willingness to pay
All mountain ropeways are succeeding in a development push in digitization by entering into flexible pricing. But the increase in the proportion of tickets sold via the online channel does not just mean more customer data.
DEEPER INSIGHTS
For all ski resorts, implementing flexible pricing is a significant step towards digitalization. However, the increase in online ticket sales not only provides more customer data to the ski resort, but also provides deeper insights beyond traditional customer data (such as address and date of birth), which can be used for marketing purposes such as generating additional revenue, conducting surveys, promotions, or loyalty programs.Insights into booking behavior and willingness to pay are catalysts for future digital customer communication to achieve their business goals.
HIGHER PLANNING RELIABILITY
A high proportion of online ticket sales in advance increases the ski resort's planning security. Tickets sold well before the actual ski day mean more liquidity before and during the season. This can be especially advantageous in uncertain weather conditions, as tickets can still be sold on "bad" days – shifting the weather risk onto the guest.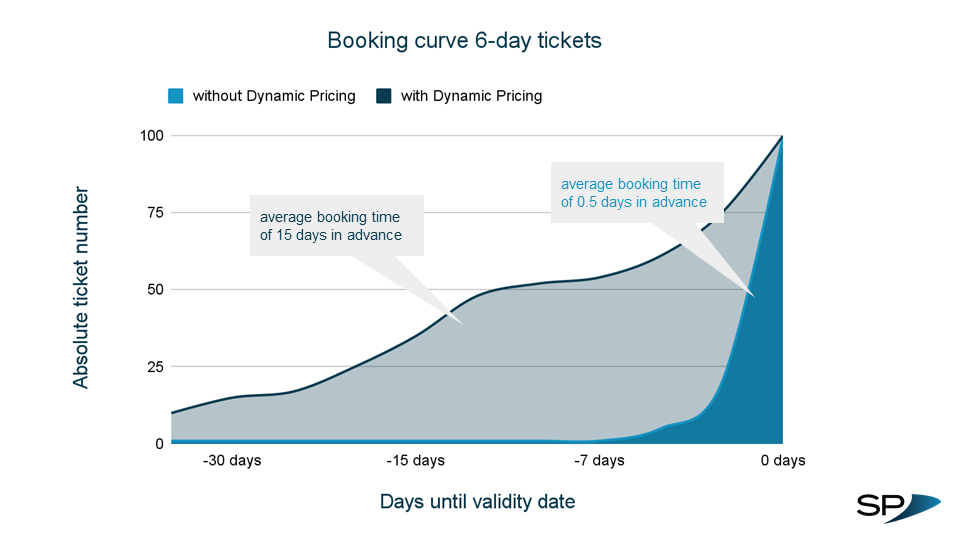 Our customers' practical examples demonstrate the effectiveness. For example, since the introduction of Dynamic Pricing:
we were able to increase the online share of ski pass sales for our Swiss client, Belalp Bahnen, by more than 30 percent compared to the previous season
and achieved an average booking time of one month in advance.
"Our pricing policy no longer corresponds to today's circumstances. Dynamic pricing is now almost standard practice in all industries. We want to keep up with this development. With Smart Pricer, we have found a partner who has convinced us through their many years of experience and the results achieved by their customers.

We expect to gain a better understanding of our customers and to be able to align our business model accordingly."
Dynamic Pricing is the right pricing strategy for ski resorts and mountain railways. Dynamic Pricing leads to many positive side effects, which offer a significant advantage in the competitive tourism industry in the alpine region:
A high proportion of online ticket sales and pre-sales increase planning security.
Comprehensive data collection with insights into customer behavior and needs to further optimize products and sales.
For the first time, data-based decisions are possible to carry out targeted, personalized marketing measures.
If you would like to learn more about practical examples or information on how Dynamic Pricing can support your digital transformation – while increasing revenue by up to 15 percent – contact us now and we will be happy to advise you in a free initial consultation