If you have looked for a concert ticket recently, you probably have seen similar tickets being offered on various platforms for a wide range of prices. The main reason behind this is the secondary market for tickets. On this market, tickets are either resold with the intention to make money, or by people who wanted to attend an event but no longer can.
The secondary market for live-event tickets is huge. According to Global News, the secondary market for concert ticket reaches around USD 8 billion globally, compared to the USD 30 billion revenue from direct tickets sales in the primary market. The existence of a huge secondary market and the wide range of ticket prices suggests that many promoters do not use their full revenue potential.
Disentangle the data from the secondary market
How does the pricing process work? Normally promoters play around with the prices of all ticket categories in order to achieve a desired profit. Quite often the ticket price is based on experience and "gut-feeling".
We, driven by data-based pricing decisions, have taken a deeper look at the factors of the secondary market exemplarily for US concert tickets. Those insights give actionable insights for promoters.
Our Data Scientist Yusuf Aktan investigated the jungle of different prices for concert tickets. He discovered the effects of different price settings as well as how to back the initial pricing with data and optimize ticketing revenues as a promoter.
Yusuf gathered event information and face value prices for live music events across the USA primarily via the Ticketmaster API. He also obtained resale price data from popular secondary market platforms like Stubhub and SeatGeek.
Several factors like music genre and promoter have an significant effect on the markup
While exploring the data, Yusuf created a number of relevant features for each event, such as the number of days until the show starts, day of the week, length of presale, number of artists per event, average minimum and maximum resale prices (based on data from SeatGeek and Stubhub), resale ticket source, minimum and maximum markup, and the average number of resale tickets listed on a platform.
One of the first findings was a correlation between the music genre and the difference of the average primary market and secondary market price. As seen in Exhibit 1, folk and pop concerts seem to have a significantly higher ticket price markup than those of Latin or world genre
The data shows that the music genre has an effect on the ticket price markup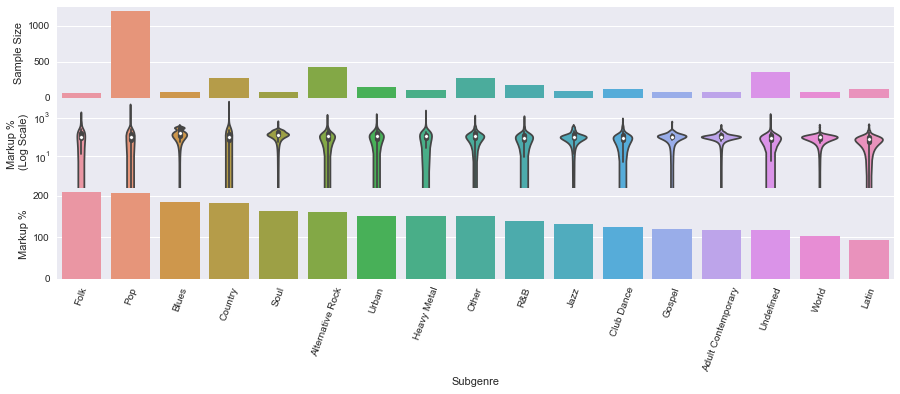 Exhibit 1) Ticket markups by event subgenre
Another correlation of the markup can be found in the promoter itself (Exhibit 2). Yusuf discovered that events from small tour promoters or venue-promoted events had higher markups than events by major companies like Live Nation. This suggests that smaller events might cater to more niche and dedicated audiences, that smaller promoters simply don't have the resources to accurately price events, and that they do not utilize data-based and flexible pricing.
Large promoter companies have lower markups compared to events by smaller-promoted events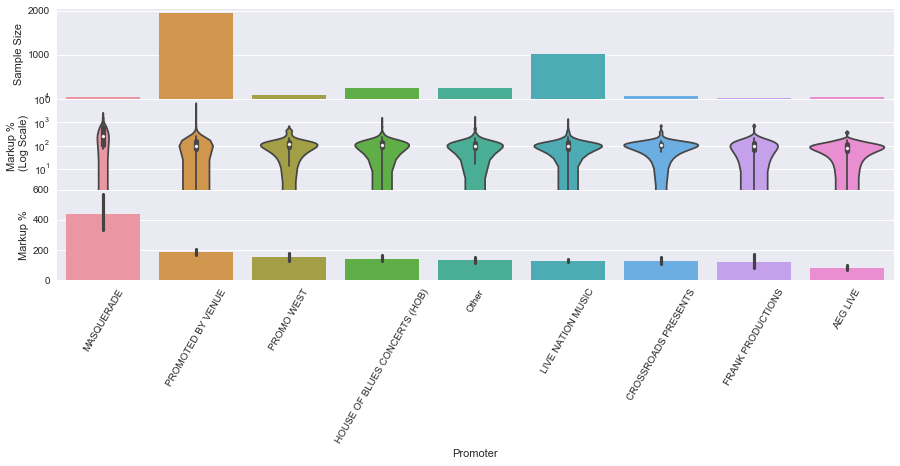 Exhibit 2) Ticket Markups by Promoter
Using Machine Learning to find the most important parameters
After collecting the data, cleaning it, and poking around to find interesting insights, our data scientist started the engines of machine learning to narrow the original dataset down from 74 features to 14.
Ticketmaster minimum price and average number of ticket listings have the highest positive correlation
Exhibit 3) Coefficients of selected features, on a standardized scale
The machine learning algorithm chose 14 features that correlate positive or negative to the markup. Their coefficients provide an easy-to-understand explanation of what factors drive concert ticket markups on the secondary market.
For example, as seen in Exhibit 3, events in New York that are far in the future, and featured artists that are popular on Spotify caused the highest markups, while events with high face value prices, lots of tickets on resale platforms, and pop music events drove markups down in the end.
What Promoters can learn from it for their pricing strategy
Promoters don't want to risk charging too much for a ticket, because they are worried of accusations of gouging. Currently, many promoters lack meaningful market data to help guide the pricing of tickets. Data of this type could help promoters by allowing them to intelligently adjust prices according to the forecasted and real-time demand and capture some of the profit that would otherwise go into the secondary market.
The research shows that the average ticket markup was 158%, hence sellers on the secondary market were able to charge more than double the original ticket price. By using dynamic pricing, promoters could increase their revenue by offering tickets at the fans' willingness to pay and at the end limit the amount of ticket sales on secondary market platforms.
About Smart Pricer
Smart Pricer provides ticket sellers around the globe with the necessary tools to increase ticketing revenues, online sales, and off-peak attendance. Over 10 years of pricing experience and millions of ticket pricing optimizations make us the go-to pricing partner for Ticketmaster, FC Bayern München, and Zermatt Bergbahnen, among many others.
We are currently developing our new pricing strategy software. For more information and a demo of this software, please visit our website and contact info@smart-pricer.com.