In our last blog post of this series, we talked about what ticket sellers can learn from Amazon's pricing strategy to get ahead of competition. But how does an organization based on ticket sales decide on the optimal price?
Many Marketers and ticketing managers still base their pricing strategy on static excel sheets, which can lead to missing out on potential revenue. Pricing is fundamental to a business' overall success and it can be difficult to establish a pricing strategy in a way that guarantees your strategic goals.
Your ticket prices impact revenue, cash flow, service features, and branding. Nowadays, successful businesses have a well-planned long-term pricing strategy to optimize customer growth, revenue and utilization of capacity.
What are the main functions of pricing for your business?
According to several studies, an increase in average selling price of 5% gives an EBIT uplift of about 20%. So why does pricing have such a significant impact on profitability? The answer lies in understanding and analyzing customer value.
Your ticket pricing needs to:
Reflect the perceived value of your service
Match the market's willingness to pay
Support your brand and position in the market
Optimize your profits
Impact customer behavior
Improve customer satisfaction
What to consider before planning your pricing strategy
To be sure that your pricing reflects your perceived value, it is best to evaluate your brand and identify all relevant distribution channels. This allows you to develop the most effective pricing strategy.
To maximize your total revenue and profits, you need to A/B test your customers willingness to pay. This is important, because higher prices are linked to lower ticket sales and you may achieve more revenue with fewer units sold.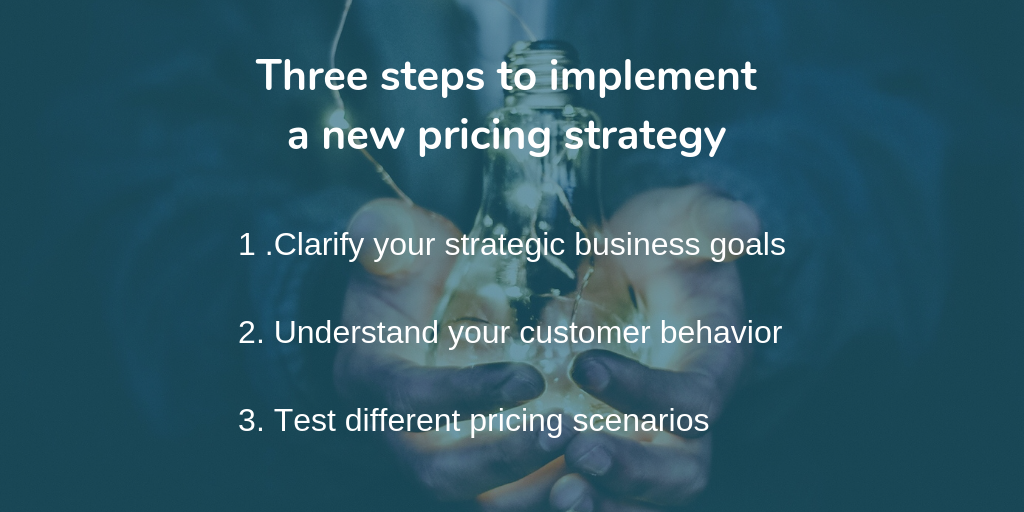 Three steps to implement a new pricing strategy
1. Clarify your strategic business goals
Common goals are revenue and profit uplift, increase of booking lead time, boosting your online sales, as well asand shifting demand from peak-times to off-peak times.
2. Understand your customer behavior
Studying hHistorical sales data shows the development of your ticket sales. To increase revenue, you should understand your customers' demand and capture their willingness to pay.
3. Test different pricing scenarios
How will your sales cycle change when you adapt your prices over time? A simulation is the best way to model your pricing changes, allowing you to test multiple pricing scenarios and find the right strategy for your business.
Implement, learn and adjust
Once you have discovered the best pricing strategy, you can implement the new prices. However, don't just let the system run unobserved for the next years.
Constantly checking the results and adjust the parameters will fine tune the sales efforts and enable best results. Keep full control of your pricing operation and check your KPIs regularly to learn and improve over time.
About us
Smart Pricer provides ticket sellers around the globe with the necessary tools to increase ticketing revenues, online sales, and off-peak attendance. Over 10 years of airline pricing experience and millions of ticket pricing optimizations make us the go-to pricing partner for Ticketmaster, FC Bayern München, UCI, and Zermatt Bergbahnen, among many others.
We are currently developing the new Smart Pricing Software Pricelabs. For more information and a demo of this new level price optimization software, please contact info@smart-pricer.com.
Stay tuned for part 4 of our Pricing series – coming soon! Subscribe to never miss our updates again.
Read more from our blog series about the future of pricing:
Part 1: In times of digitalization, data-based pricing is not a choice, it's a must
Part 2: How Sports and Entertainment venues learn from Amazon to get ahead of competition