Webinar: What can cinemas learn from other industries
In our first webinar about Pricing Best Practices for Cinemas, we talk with the cinema guru
Patrick von Sychowski
from
Celluloid Junkie
about the world of price differentiation in ticket sales around the world. Coming from airlines and hotels, dynamic pricing is now being introduced to new industries, including entertainment venues, sports clubs, ski resorts, and cinemas. You can watch our recorded webinar on Youtube now!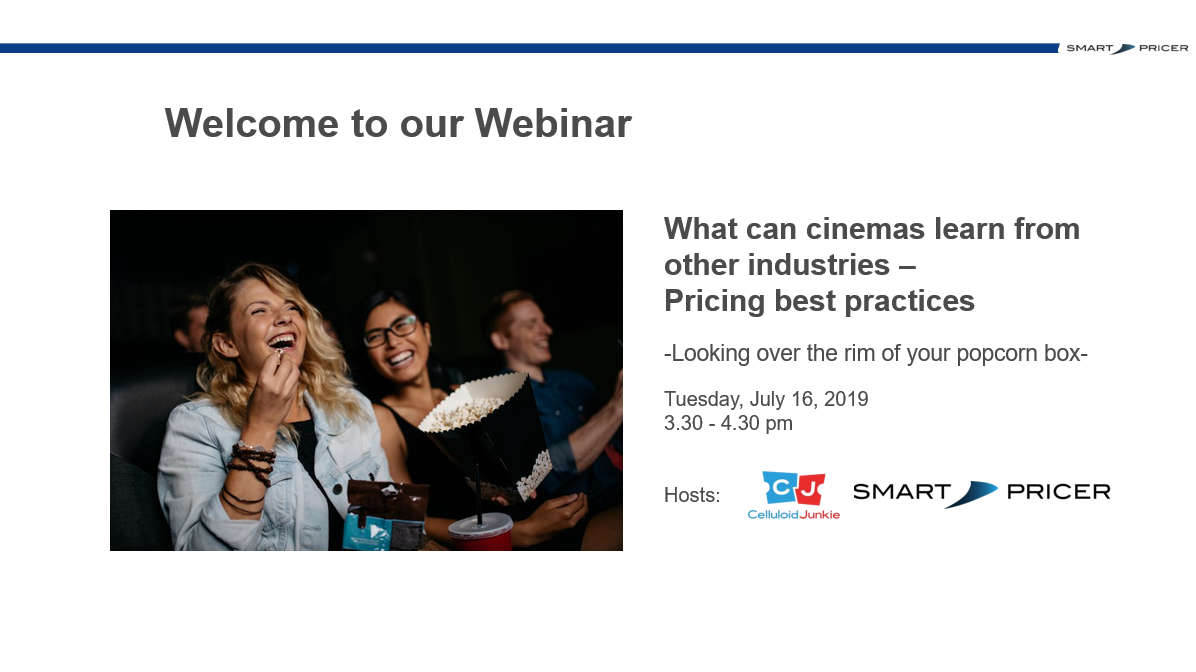 New Pricing strategies are revolutionizing the entertainment industry. Whenever there is a variable demand to a fixed capacitiy (like movie tickets), price differentiation is a logical tool for business optimization. When implemented correctly, new pricing strategies can increase revenue, online sales and attract more visitors during off-peak times.
Our newest webinar, jointly held with Celluliod Junkie, provides valuable experiences on wordwide best pricing practices and reflects the current trend in cinemas.
Pricing is the most powerful tool to generate revenue. Yet, many movie theatre operators are still seeling ticket at a fixed standard price. Analyzing sales data and adjust the ticket prices to real demand anables new ways of customer-centric business optimization.
The agenda of our webinar
Introduction into the world of price differentation
Best practices in ticket sales around the world
Price differentiation in cinemas - The new trend?