Case Study: Cinema Industry Price Optimization
In this white paper we reviewed demand forecasting and price optimization at a European movie theater. The initial questions for the approach included: How can we increase ticket revenues without loosing customers? What can we do to push online sales? How to stimulate demand?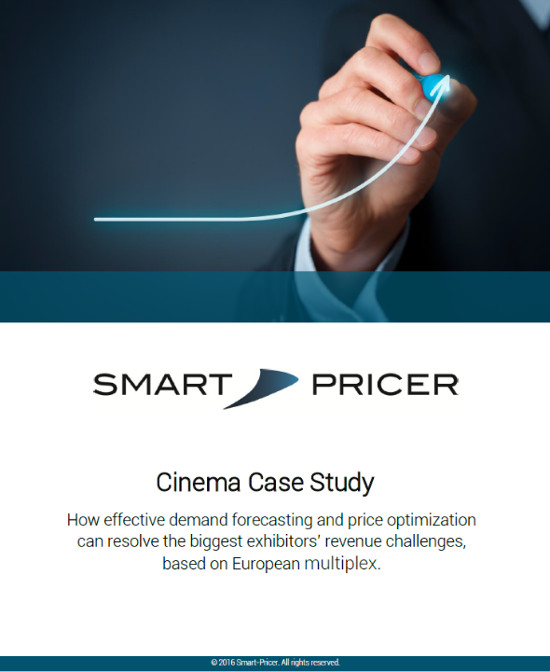 Moving beyond traditional approaches by introducing dynamic pricing shows higher revenue uplifts. Smart Pricer's Tool gives an answer to the two key questions: How many will come and what is the right price-mix for each show. We offer three options to implement dynamic pricing in cinemas: Dynamic ticket prices, New ticket types, and dynamic price categories.
We focused on dynamic optimization. This includes automatic demand forecast per show, optimized pricing in real-time, and the consideration of various demand-drivers, such as time of booking, weather and season, vacation, current number of bookings, and exhibitor's strategic objectives.
+5% revenue increase for low-attendance show
By shifting demand with attractive prices to these shows and increase overall sales as a result.
+10% revenue increase for high-attendance show
By utilizing the price insensitivity of spontaneous movie-goers with higher ticket prices.
Constant attendance vs. benchmark theaters
By keeping a constant number of complaints and a constant net promoter score.
Download the document by entering your email address in the field below. You confirm to subscribe to Smart Pricer's newsletter for regular news and updates.