With mass vaccination programmes gathering pace and lockdown measures in some countries being gradually eased, the thoughts of businesses across Europe are turning to what the post-COVID economic landscape will look like.
Like most sectors, it has been a long, hard winter for sports, ski, and attraction venues. Many have again faced total closure under strict lockdown measures. Others have endured a start-stop process of opening and then having to close again, perhaps several times over, as waves of rising infections have come and gone. More still have remained open but have had to operate under heavy restrictions.
Reopening poses a number of questions for any kind of ticket venues. There will certainly be changes in demand and in customer behaviour across the sector. We expect to see a split between people who can't wait for everything to reopen again and will rush to do the things they most enjoy doing again, and those who are still understandably cautious about the virus and nervous about getting back to 'normal'.
Lower and fluctuating demand, the need to maintain social distancing measures, and customer expectations about getting a different kind of experience in busy public places will all impact on how businesses operate. Ultimately, the biggest priority is protecting margins in a new market environment.
At Smart Pricer, we wanted to see if and how these challenges could be turned into positives for sports, ski, and attraction venues. Hence, we have been speaking to dozens of attractions, amusement parks, ski resorts and professional sports clubs about their post-COVID reopening strategies to try to find a consensus on what will work best for businesses that rely on ticket sales, and even on how they can come out of the pandemic in a stronger position.
After all of these conversations, we noticed three common themes to the reopening strategies of all the most innovative and resilient players:
1. Making Online King in Ticket Sales
2. Implementing crowd control for a better customer experience
3. Preparing for an uncertain demand
All three of these strategies are delivered via a combination of adapting products, sales channels and pricing, and they work to complement one another. In this article, we'll explain each strategy in turn, with real-life examples (case studies) to illustrate how they work so you can take the learning and apply it to your own business.
1. Making Online King in Ticket Sales
We have seen numerous examples of leisure operators using dynamic pricing to incentivize people to buy online rather than in person by making online tickets cheaper. Bergbahnen Sölden, one of the largest ski resorts in the Alps, has done this in recent months, introducing a special webshop which incentivizes early bird purchases with a price reduction of up to 20 percent.
But a key point about the strategy of the ski resort Sölden is that it explicitly tells customers that they can get cheaper tickets if they buy online, which of course drives people to the webshop.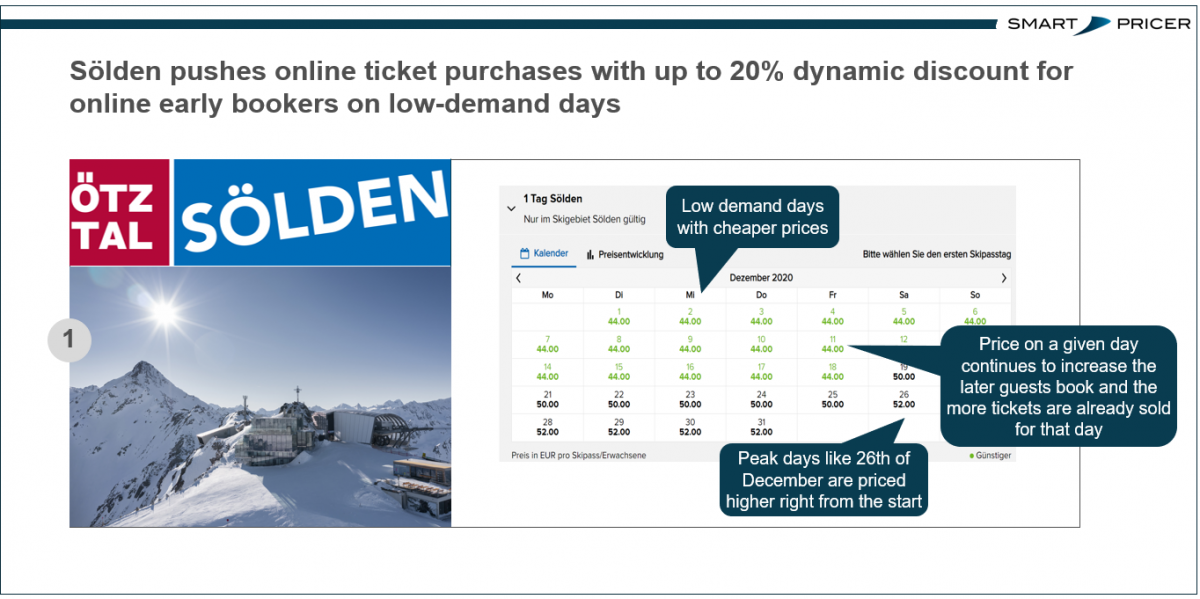 Illustration 1: Webshop Sölden, Source: Smart Pricer 
Another option available to ticketing venues is to give customers no choice, by switching to online-only ticket sales completely. We've seen many lower footfall attractions, museums for example, take this approach, making the ticket desk redundant. There, customers have no choice but to buy online, which also means they have to buy in advance. This allows the operator more space to control visitor numbers, and to implement dynamic pricing to optimize margins.
2. Implementing crowd control for a better customer experience
One of the first things people expect when they return to sport, ski, and attraction destinations is less crowding. Social distancing might have been a concept introduced to stop the spread of the virus, but its legacy on people's behaviour is likely to last a long time.
The need to 'thin out' visitor numbers to maintain social distancing however is problematic if it means reducing overall footfall. One solution we came across was demonstrated by Leukerbad, one of the largest thermal spa operators in the Swiss Alps, which changed its ticketing options to effectively shorten the length of each visit.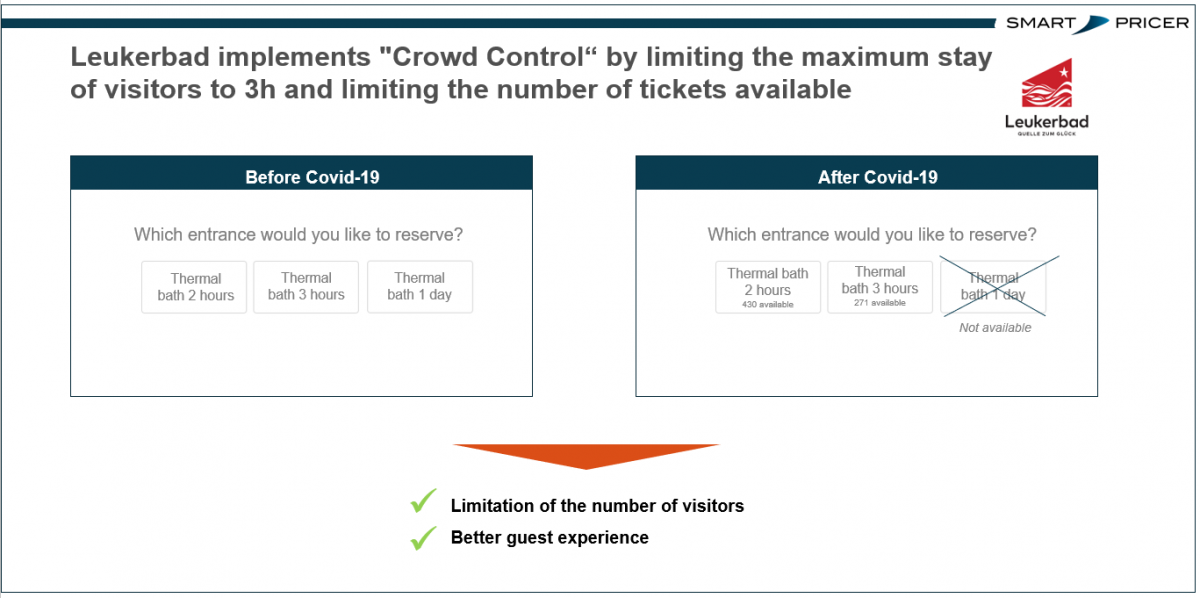 Illustration 2: Crowd Control measurements at Leukerbad, Source: Smart Pricer 
Prior to the pandemic, Leukerbad offered passes for two hours, three hours and for a full day (see left illustration). In recent months, the spa operator has abolished the day pass completely, meaning the maximum length of time any customer can stay is three hours (see right illustration). 
This serves to increase throughput, meaning Leukerbad can get more people in and out per day while still keeping the overall number of people in the spa at any one time at a controlled, socially distanced level. In other words, less crowding, but no overall reduction in footfall.
Another approach we came across involved capitalising on the fact that less crowding lends itself to creating a more premium customer experience. Again, we saw this demonstrated by a thermal spa operator, this time the Thermengruppe Josef Wund Europe's largest thermal spa business.
Before the pandemic, the Thermengruppe Josef Wund used to offer pool loungers as an optional extra at all of its spas (see left illustration below). That meant there would often be more people in the spas at any one time than there were loungers.
In order to limit the number of visitors to the number of loungers available, the spa operator now has made a lounger mandatory for every visit, in effect combining the main spa ticket with the paid-for extra (see right illustration below).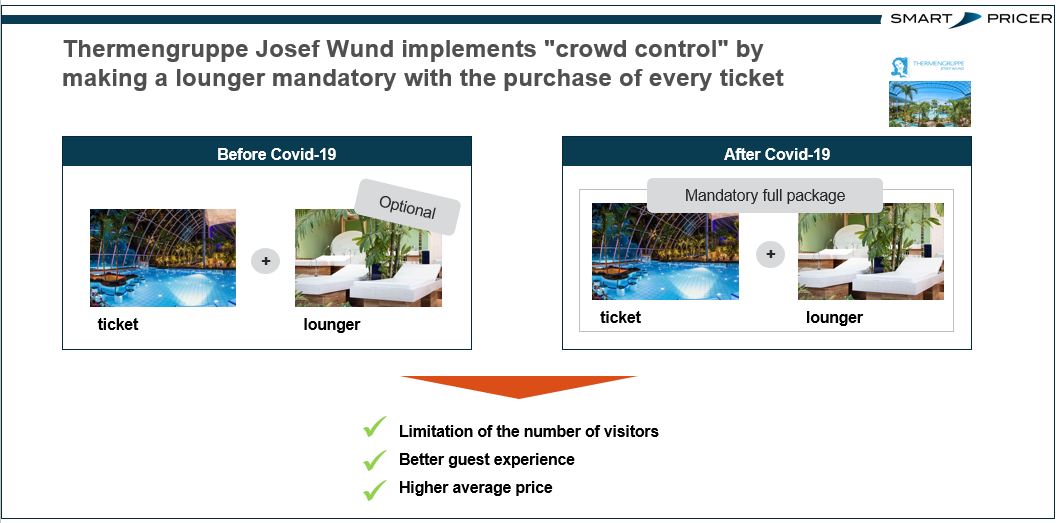 Illustration 3: Crowd Control measurements at Thermengruppe Josef Wund, Source: Smart Pricer 
What is so clever about this approach is that it doesn't only reduce how many people are in a thermal bath at any one time, it also means that the average price of every ticket sold has increased – to the combined price of buying a pass and a lounger separately. The Thermengruppe Josef Wund can justify this by now offering a more premium experience, less crowded bathes and a lounger for every customer.
3. Preparing for an uncertain demand
As lockdown measures are eased and economies open up again, sport, ski, and attraction venues still cannot be sure what demand will be like over the coming months. We've seen, for example, with the lifting of restrictions on travel to some Mediterranean countries, a huge surge in bookings. That leaves companies with the challenge of how to manage crowds at a level that visitors will be comfortable with, as discussed above.
On the other hand, we just don't know how consumers will react to news of rising cases, or if they will be put off going to places where they fear they will find crowds. In many cases, it is likely that many leisure businesses will experience highly volatile demand over the coming months, with sudden peaks followed by unexpected dips.
Variable demand can hurt margins by causing businesses to turn away custom one day, perhaps never to return, while they are over-staffed and over-resourced the next. Leisure operators need ways of exercising some kind of control over fluctuating demand. Doing so requires becoming more flexible in how they operate.
Dynamic pricing is a perfect example of a flexible operational strategy that serves to 'smooth out' fluctuations in demand in a way that protects margins. We saw a good example of this being implemented by Phantasialand, a large theme park in Germany.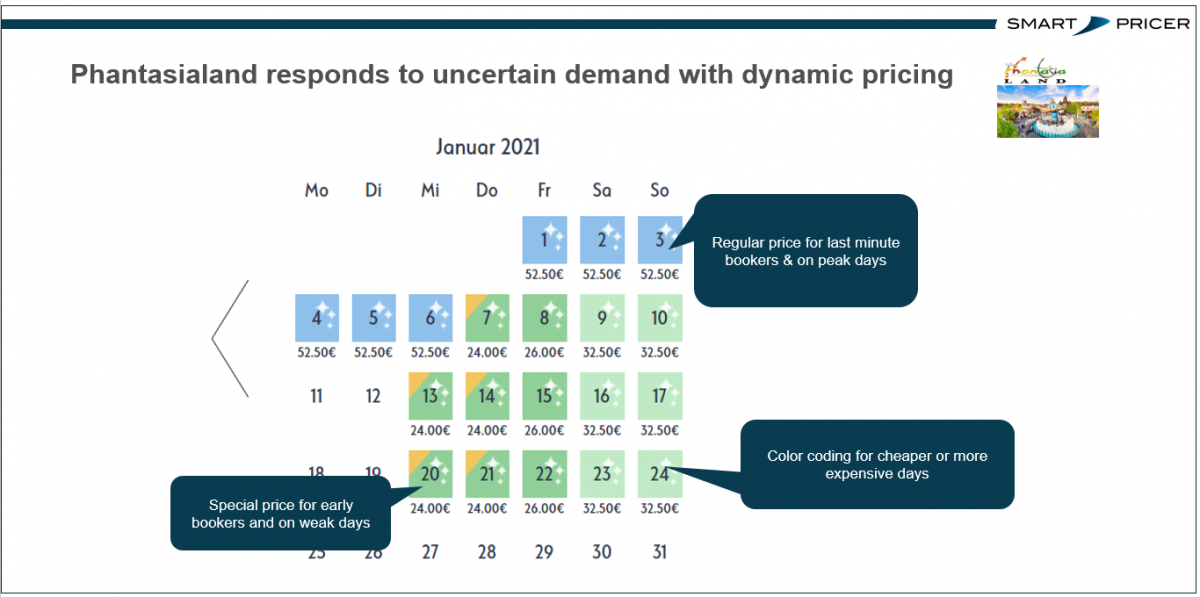 Illustration 4: Webshop Phantasialand, Source: Smart Pricer 
When you look at pricing across a period of days, what immediately stands out are the big differentials – prices on certain days are 100% more than on other days. What Phantasialand is doing is incentivizing two things – booking in advance and booking on low-demand midweek days. The highest prices are reserved for weekends, holidays and also for walk-up customers on the day.
One of the purposes of this kind of dynamic pricing approach is to level out demand. The difference between peak and off-peak days is less important than encouraging people to book early. The more 'early bird' purchases are made, the more opportunity the operator has to plan staffing etc accurately. And if it leads to more visitors on off-peak days and fewer on peak days, no problem – the price differentials will mean margins are maintained either way.
In addition, dynamic pricing helps to optimize margins while controlling visitor numbers. If plenty of people take advantage of early bird prices, you can start to put prices up, reaching the peak price before availability runs out completely.
If you want, you can also find the entire content just discussed in a short video taken from one of our Managing Directors on our Youtube channel or by clicking on this link.